it's almost september, which means the start of the create your own adventure goal setting challenge i talked about
here
. in case you missed it, the basic premise is this - each month has a different general topic, such as food, relationships, organizing, etc. under that general topic, you'd pick whatever you want to work on for the month, such as 'try 3 new recipes' or 'fix up the linen cabinet.'
the link up will be the first thursday of each month, so you'll have a full month to work on your particular goal and write up a recap post. on the first of the month and at the end of my recap posts, i'll let you know what the challenge theme is for the next month and what i'll personally be working on. i'd love for you to comment and tell me what your plan is too so i can tweet you encouragement throughout the month.

any questions?
the challenge for september is fitness and the link up about your results will be october 2. we decided to start with fitness because for those of us that have winter and polar vortexes, it's still nice enough in september to get outside, if that's how you like to exercise. it doesn't have to be anything crazy, it can be as simple or as complicated as you want.
some ideas for 'fitness':
- walk 1 mile each day
- sign up for a 5k
- only take the stairs
- work up to heavier weights
- try the jillian michaels 30 day shred (or other workout video)
what i'll be working on:
i move apartments this weekend. my fitness challenge for the month is just to get used to my new place - there's no elevators, for one, so daily unavoidable stairs are on my list. i'm on the second floor and the laundry is in the basement. obviously, it's not a lot, but it's more stairs than i'm used to. i also need to walk to the train to get to work. it's less than 10 minutes but (as opposed to where i am now) i cannot just hop in a cab when i feel lazy. i also might try walking around the neighborhood more to get used to it and find new places.
general guidelines:
2) link up your post about your results for the month - we want to hear all about what you did, how you fared, what resources you used, what you'd recommend to others, etc.
3) please link to your actual post about your results. links not having to do with the challenge will be deleted.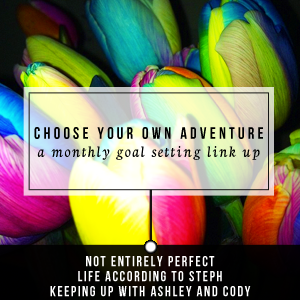 will you be participating in september? what will you be working on?
i included a link up widget today so i could test them out, see if it works. if you plan on participating in september, feel free to link up your blog below. (a link to the main page of your blog this time is fine.)