and just like that, september is over. i can hardly believe it myself. and with the end of the month comes the first choose your own adventure link up! did you participate in september? the theme was fitness, but all goal setting/recapping posts are welcome here.
my
goals for september
were just to get used to my new apartment. holy stairs involved. i mentioned the 2nd floor thing and the laundry, but i totally forgot the fact that i walk 10 minutes to get to the train, walk up 2 more flights of stairs, get off my my work and walk up 2 more flights there... maybe for some of you that's nothing but damnit, stairs are hard. it's nice to say though, it's much easier now than it was when i started. my thigh muscles stopped being so angry at me. i also have walked every day, no cabs taken! and i've explored the neighborhood with hawkeye. we found a bar that allows dogs inside and has $1.75 pints of pbr (everyday.) does that negate the health benefits of all the walking? whoops...
regardless, i'm glad the first month was successful and i'm glad i made it easier on myself. there was so much unpacking to be done, plus 2 weddings and various parties, it was just a really busy month.
so how did you fare? link up below!
general guidelines:
2) link up your post about your results below for the month - we want to hear all about what you did, how you fared, what resources you used, what you'd recommend to others, etc.
3) please link to your actual post about your results. links not having to do with the challenge will be deleted.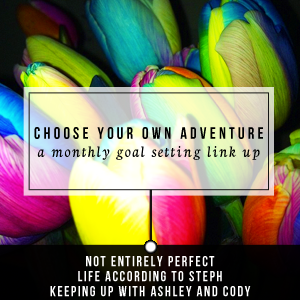 for october, the challenge theme is food! which of course, isn't limited to just cooking. you're certainly welcome to test out a new pinterest recipe or make something with pumpkin, but it could also include trying a new restaurant or trimming your grocery spending. even planning your menu for thanksgiving (yeah, that's next month!) see? lots of options, even if you aren't a cook!
here's what i'm working on for october:
(1) one of my co-hosts of this link-up, steph, is
hosting a 'wallet watch'
. essentially, you make your own spending rules. in line with that and with the food theme, i'm going to limit my grocery spending and clear out the cabinets (how i managed to get 10+ various cans of soup, i will never know.) i went shopping tuesday with john and spent $37 at aldi, and that's it for the month.
(2) and to not supplement that with ordering in and/or eating out. the point is to clear the stockpile in the cabinets and freezer, not to avoid the grocery store and definitely not to waste money on eating out all the time! this will be hard for me, i love being able to order in exactly what i'm feeling like at that time. perks of being in a big city where everything is available whenever you want it.
(3) make a fall drink. i don't know what yet, exactly, but we're going out for halloween and i always bring my own booze. i want to find something festive.