it's link up day!
the theme for october was food
.
my first goal was to
limit my food spending
, as in eat out of the pantry and not grocery shop beyond that first initial trip.
success!
i ate a lot of soup, my friends. why is canned soup so easy to accumulate? but it was tasty and fun to figure out how to make meals interesting with what i had left. and now i have more room in the cabinets, and didn't waste any money on thrown out food. i posted about my saving money on groceries process
here
and
here
.
second was too eat out/order in less. i give this a
pass
. it was definitely less than previous months, but still not where i'd like it to be. you want to know why? mcdonalds monopoly. damnit mcdonalds. this month should be much better!
and third was to make a fall drink.
fail. total fail.
i forgot to even try. i had vodka and orange juice on hand and i didn't want to buy anything else. megan made a drink using loopy vodka (tastes like fruit loops, exactly) but that's not very fall-like either. i did drink cider beer a lot, but i didn't make that obviously. whomp whomp.
so let's hear it! how did you do in october?
general guidelines:
2) link up your post about your results below for the month - we want to hear all about what you did, how you fared, what resources you used, what you'd recommend to others, etc.
3) please link to your actual post about your results. links not having to do with the challenge will be deleted.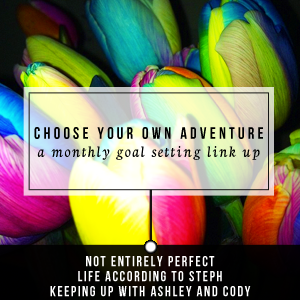 these next two months, november and december, are pretty crazy for everyone, regardless of what holidays you celebrate or where you live. so we decided to keep the themes simple - let's not add anything else to our plates.
the theme for november is
organize
, which
i talked about on saturday
. what will you be getting organized this month? i'll be working on the things stored up in my mom's attic - yikes!
the theme for december? simplify. just take something off your to do list - make one less kind of cookie, use only lights on the tree, say no to 1 holiday party, make only 1 side dish to bring to dinner. just make the month a little easier on yourself and take time to appreciate the little things.